Reveil Martinal Orphanage Foundation
In January 2010, a devastating earthquake hit Haiti causing destruction and a substantial loss of life. A team of medical volunteers from Ukiah Valley Medical Center left on the first mission to provide care to the people of Haiti. The team also had an additional goal of finding and providing relief to an orphanage.
Our team found the Reveil Matinal Orphanage of 20 girls. This orphanage had been in existence for 6 years and was run by the Reveil Matinal Orphanage Foundation (RMOF), based in New York City. Charlucie Jaboin the president of RMOF was thrilled and relieved to create a partnership with Hearthstone Village.

New Land for the Orphanage in Haiti: A Timeline
In 2010 the girls were in an unsafe location. They did not have consistent adequate nutrition, and the staff was untrained. Hearthstone made a commitment to support the safety, psychosocial, nutritional, and educational needs of the children.
In 2011, the orphanage was moved to a safer house in Port au Prince. With Hearthstone's support, nutritional and educational needs began to be met for all of the girls and the staff.
In 2013, we increased our numbers to twenty-three girls, including two toddlers. It became apparent we were in need of more living space.
In 2014, Hearthstone Village, in Partnership with RMOF, purchased land outside of Port au Prince for a new orphanage complex for the children of the Reveil Matinal Orphanage. With the assistance of Parsons New School of Design in NYC, a complex was designed to include a residence for the children and staff, vocational school, playground, small clinic, guest accommodation, solar power, clean drinking water and space for a garden and animals. Owning the facility and growing food will create a more sustainable situation and provide educational and social opportunities that will carry these girls, as well as the ones that follow, into a brighter future. Presently, we are still in the process of finalizing all the legal details in order to begin construction.
In 2015, we moved to a bigger house in the Delmas neighborhood of Port au Prince and expanded to serve 29 girls. With our support, all were attending school daily.
From 2016 to present, we've focused on meeting the girls' nutrition, educational and social needs. Soon many of the girls will reach their 18th birthday. We hope to have a transition house for these girls to grow in their independence, still with education and medical support, and welcome new young ones to the orphanage.

Ongoing Volunteer Opportunities in Haiti
Hearthstone encourages volunteers to visit the girls regularly. We send teachers, gardeners, students, social workers, medical personnel, artists, contractors and more. Each team has an opportunity to play with the girls, assess their needs and have fun with the kids.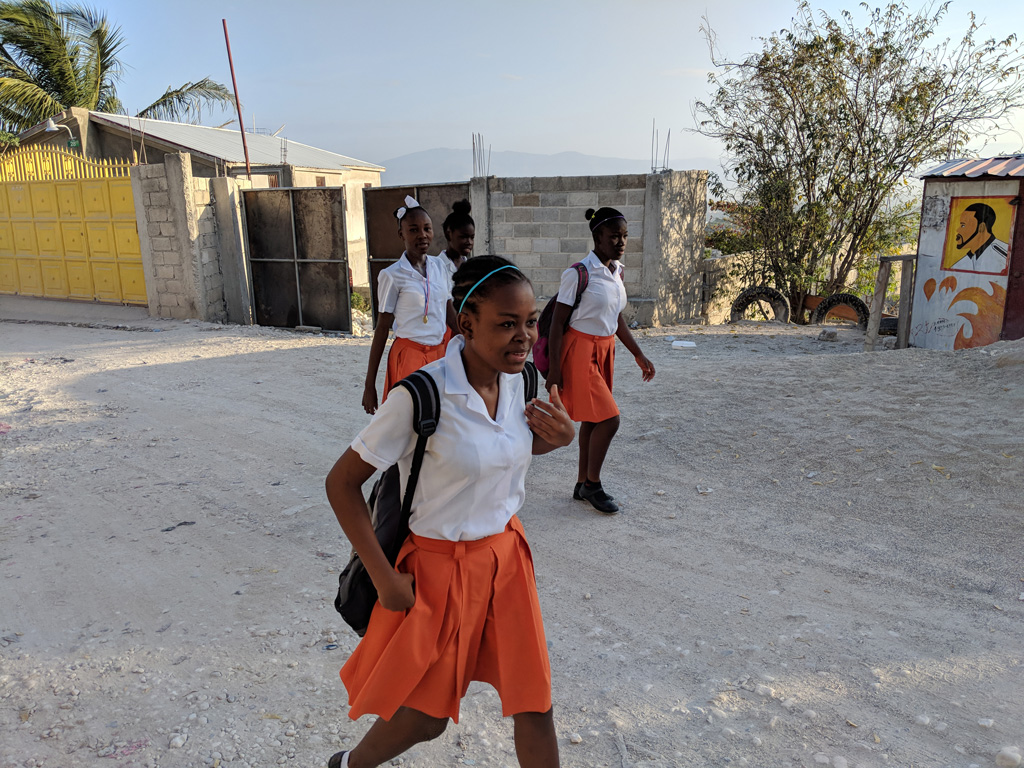 Our wonderful volunteer community has also given clothes, food, money, educational supplies, toys, books and crafting materials to help sustain the orphanage. We also have an education sponsorship program to finance the expenses of educating each child.
Since we began supporting the girls, they have moved to a safe home, their nutrition has improved and they are being educated. The staff has had trainings as well. The girls are happy and live in a loving environment. We still have many challenges but we have also had amazing success.

A Vision to Build a Sustainable Village
In partnership with the Reveil Matinal Orphanage Foundation and the Parsons New School for Design, we intend to build a permanent home for our children in Haiti. We have a vision to create a sustainable village with the following:
A safe home for 40 girls, staff and volunteers

A Vocational/Primary school

A guest house for those volunteers with longer-term commitments to living at the orphanage

A simple clinic as a first aid station, staffed by volunteers until a sustainable program can be developed for the community

Grounds designed for beauty with native plants, orchard and garden, a barn with goats and chickens and a playground with shaded areas

Solar collection & storage for electrical use

Rainwater collection & purification

Join Us
It is going to take a village to support these children into a healthy adulthood. Join our team. Volunteers are needed to love, feed, teach, play and garden. We also need organizers, builders, and fundraisers. We need your support. Financial donations are also a way to contribute to providing care, education and shelter for the girls.
Thank you for your interest. We look forward to hearing from you. — The Board of Hearthstone Village